Have you always wanted to live on the waterfront but work in San Antonio? The COVID-19 pandemic has revolutionized remote working, and many companies are allowing their employees to work from home full- or part-time. If you still need to go to the office every day and want a weekend home, there are many waterfront communities within an easy drive of San Antonio. Not sure where to look? Here are some areas to start your search.


Canyon Lake
Located 44 miles from San Antonio, Canyon Lake is a water lover's dream come true. Known for having the best homes for sale in Texas Hill Country, Canyon Lake is located along the Guadalupe River and is a haven for those who enjoy swimming, boating, camping, and fishing. With 80 miles of shoreline, the lake is large enough for even the most avid water enthusiast. The median list price for Canyon Lake homes is $400,000, trending up a little over 10% from last year. The area is also experiencing a buyer's market, which means there is more inventory than interested buyers. You'll find plenty of homes for sale in San Antonio-adjacent Texas Hill Country if you decide to look in Canyon Lake.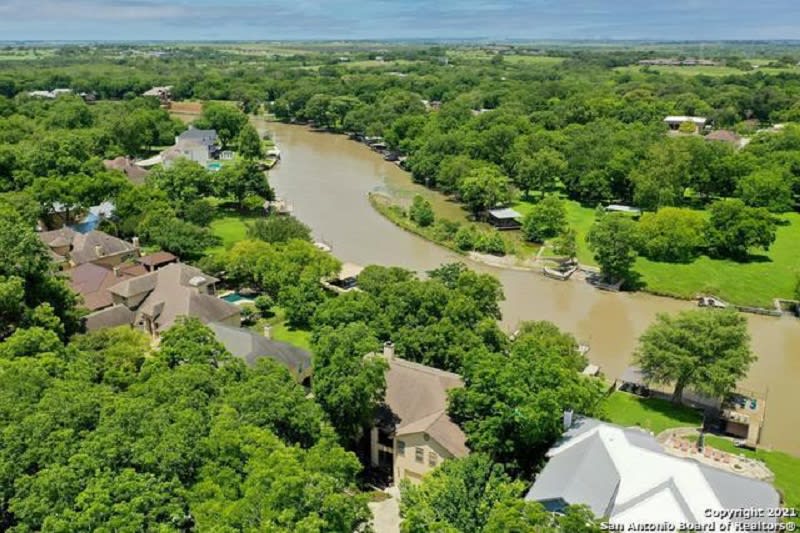 Along the Guadalupe River
Running through Texas Hill Country is the 230-mile long Guadalupe River. This gorgeous river hosts plenty of waterfront properties, all of which give residents access to water sports such as tubing, fishing, kayaking, and swimming. There are plenty of neighborhoods to choose from if you want to live on the river - Homes are especially plentiful in New Braunfels, which is located less than an hour from San Antonio. New Braunfels currently has a buyer's market and a median home price of $350,000. If you're considering homes in San Antonio's Texas Hill Country along the Guadalupe River, starting your search in New Braunfels makes a lot of sense.
Medina Lake
Medina Lake is a strong choice for those thinking of buying a Texas Hill Country home. Eighteen miles long and three miles wide, Medina Lake — actually an artificial reservoir — provides plenty of opportunities for fun on the water. Prices for Medina Lake homes have gone down slightly compared to a year ago, so this area is also a solid buyer's market and has potential for a great deal. About an hour's drive from San Antonio, Medina Lake is the ideal location for a weekend home or for the remote worker who can spend the majority of the workweek in a home office.
Austin
Just an hour and a half from San Antonio, many know Austin as Texas' state capitol. What most people don't know is that this land-locked city also has some fantastic waterfront property, courtesy of the city-dividing Colorado River. Lake Austin, on the west side of the city, is a man-made reservoir and the closest area to the city center where boats are allowed. Homes range in price from $5.9 million for a nine-bedroom sprawling property to only $449,000 for a two-bedroom, two-bathroom house. Lake Travis is another waterfront Austin option and is popular with a party crowd that enjoys skiing and celebrating on barges. If you're the ambitious type who wants to have it all — living in Austin while working in San Antonio — reach out to a realtor that services both cities for more options.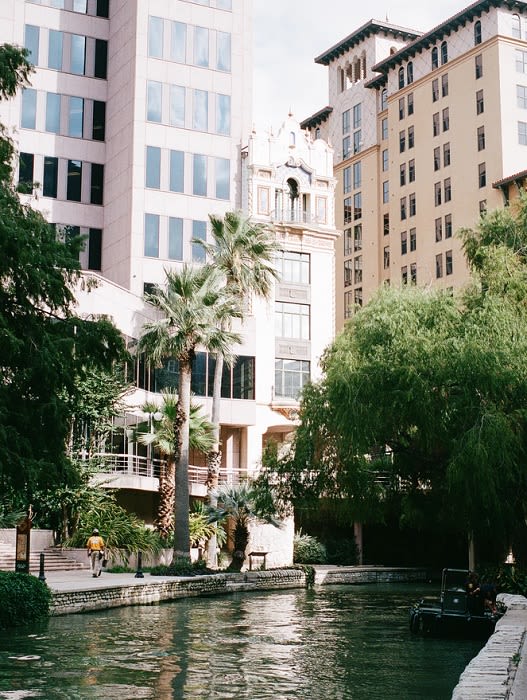 How to Buy Real Estate in the San Antonio Area
If you're ready to enjoy all of the amenities and lifestyle of a waterfront resident — while still keeping a job in San Antonio — here are some tips on buying your dream home:
Get pre-approved. Though most of the homes for sale in Texas Hill Country near San Antonio are experiencing a buyer's market, it's still a good idea to get pre-approved for a mortgage. The process will give you a better idea of your budget, and a pre-approval letter in hand shows sellers that you are serious. Bring it with you when you walk through homes to facilitate the buying process and increase your chances of a successful offer.


Prepare to negotiate. Many in a strong seller's market try to offer at or above the list price, and some drop common contingencies like selling their house first. However, in a buyer's market, you can do more negotiating and win some favorable terms. Talk with your San Antonio real estate agent about what a fair offer looks like, based on current market conditions and the home you're interested in buying.


Know what you want. Prefer to live along the river or on a reservoir? Need to have an easy commute to San Antonio, or plan to only inhabit your waterfront home as a weekend retreat? Knowing what you want before you start looking will help your San Antonio real estate agent curate the perfect homes for your consideration, saving everyone a lot of time and energy.

Have you decided to buy a waterfront home near San Antonio? Reach out to an experienced real estate agent who works with sellers of waterfront properties to see which options suit you best. The team at The Graves Group would be happy to help you select a waterfront home that you'll enjoy for years to come.