From vibrant music festivals to sophisticated showcases, San Antonio offers residents a thriving live music scene. If you're hoping to fill out your schedule with musical performances, check out this list!
Music Festivals in San Antonio
JMBLYA
JMBLYA is a hip-hop music festival with cutting-edge performers who've been entertaining audiences in Texas since 2013. With big names like Lil Nas X, DaBaby, J. Cole, and Young Thug, this is an incredible live music experience you can't find anywhere else. Besides these household names, the festival actively promotes up-and-coming artists which keeps JMBLYA full of surprises and ahead of the curb.


This festival is a popular one, with over 25,000 tickets selling out in advance in previous years as the performances were high-energy and full of color. Chance the Rapper arrived on stage on a Mini-bike with a choir delivering sermon-like vocals. Dj Steve Aoki filmed parts of his music videos mid-concert with drones. The Migos wiped the crowd up into an energetic frenzy and Gucci Mane had everyone singing every word to his hit singles.


The festival takes place every May as a one-day event in three different cities in Texas. JMBLYA takes care to cultivate the best concert experience possible, employing a variety of delicious food trucks, mobile bars, restrooms, and free-of-charge water bottle refilling stations. Their event has been canceled for the past two years due to the pandemic, but they are planning on returning in 2022, so make sure to keep checking on their social media and
website
for the lineup and tickets.

ACL
Credit: Texas Monthly
ACL, which is short for the Austin City Limits, is a unique festival featuring a diverse lineup of performers and acts over the course of two weekends. They have genres ranging from rock, indie, folk, electronic, and more with artists like Paul MacCartney, Metallica, Arctic Monkeys, Childish Gambino, Lil Wayne, and many other recognizable names. At ACL, there truly is something for everyone.


They have eight different stages, so it's imperative to pay attention to where your favorite artists are performing to maximize your experience. In addition to the music, they have a plethora of food and drink options, an art market, a kid's area, and other activities to keep you entertained, comfortable, and safe between sets.


The founders of this festival were inspired by the
Austin City Limits
television series whose vision was to provide musical and cultural diversity. As this exciting festival has been going strong since 2002 and has grown to become a staple on the national festival circuit, the guiding idea for the event has evidently been fulfilled. Updated information on dates, ticket sales, and more can be found on their
website
.

Willie Nelson's 4th of July Picnic
Famous Texas native, Willie Nelson, has held his annual 4th of July festival every year since 1973. He came up with the idea after participating in the Dripping Springs Reunion in 1972, inspired to create a patriotic event to bring the local community together. Past participants in the festival have included The Grateful Dead, Johnny and June Carter Cash, Bob Dylan, Toby Keith, Neil Young, and Willie Nelson, of course. This event is considered a celebration of American independence, Texas tradition, and legendary country artists. Often featuring classic bands who have been performing for decades, this festival is sometimes the last opportunity many have to enjoy their favorite artists.


The festival is one day on July 4th but this year the festival was forced to change from in-person to remote due to the pandemic. The organizers have every intent to return in person in 2022 so long the conditions are safe, so follow up on their
website
for further updates and tickets.

Float Fest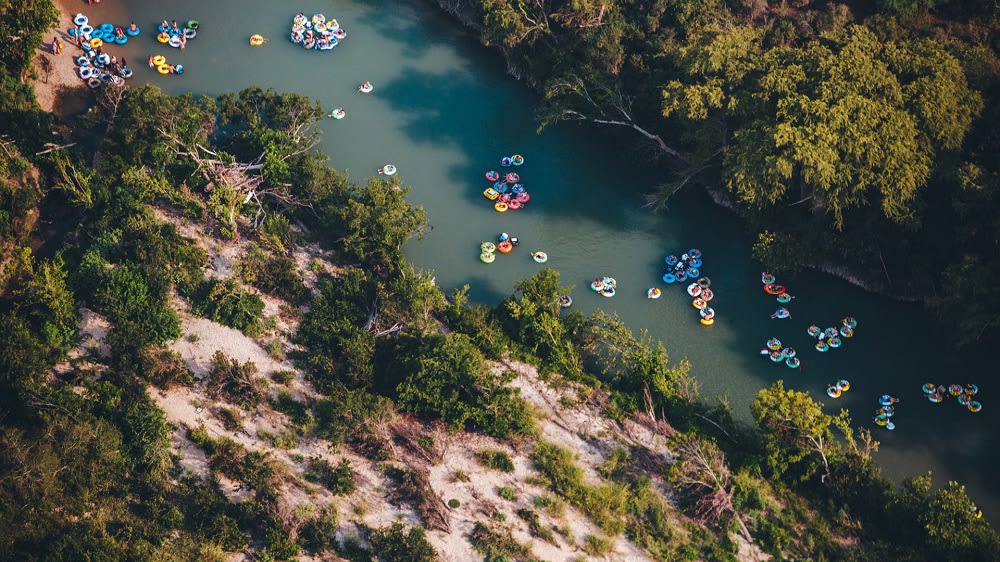 Credit: Float Fest
The Lone Star State is famous for its larger-than-life personality, Tex Mex cuisine, bluebonnet flowers, and its fierce summer heat. Although hot temperatures can't be avoided during the warmer months, Float Fest gives attendees a way to stay cool while still enjoying music from favorite artists.


The ranch where the festival takes place is surrounded by the Guadalupe River, and the organizers encourage the guests to grab a tube and float down the river while they jam out and sip on a cold beverage. The multiple stages are set up along the water and on land with plenty of trees along the banks offering shade for those who need a break from the hot sun. Attendees are encouraged to arrive with appropriate summer clothing, sunscreen, a bathing suit, and a towel.


The festival debuted in 2014 and features some of the hottest artists in hip-hop, rock, and EDM. The event lasts two days and has been graced with popular performers like Modest Mouse, Tame Impala, Lil Wayne, Snoop Dogg, RTJ, Cashmere Cat, The Surfers, and more. The festival also incorporates a huge variety of food and merchandise vendors for you to check out in between sets.


Parking shuttles to the festival are available with tubing shuttles opening at 8am and at 5pm. It is first-come, first-serve when it comes to the tubing, so make sure to get there early and secure a spot. While the festival is centered around enjoying live music and having a good time, they urge guests to remember to respect the surrounding wildlife to preserve the space for future festivals.


More information and updates on the upcoming Float Fest 2022 can be found on their
website
.

South By Southwest
South by Southwest has it all. This destination-worthy festival has become synonymous with the strengthening cultural influence of San Antonio. Founded in 1987, the festival quickly grew exponentially to become the largest of its kind in the entire world. Featuring an incredible curation of events for film, comedy, interactive experiences, and more, South by Southwest, or SXSW, is not just an important nine days in San Antonio's calendar year but a tentpole cultural event for the entire nation. The music festival alone hosts a lineup of artists from all around the globe, allowing guests to be introduced to incredible new bands they possibly have never heard of before.


President Barack Obama graced the crowd as a keynote speaker in 2016. Eclectic and global past lineups have included Mexican singer and actress Ximena Sariñana, South African Afro-folk artist Bongeziwe Mabandla, and London-raised UK Afrobeats singer Darkoo. SXSW takes care to pay homage to its roots, previously featuring local talents like Black Joe Lewis & The Honeybears, Mama Duke, Carson McHone, and more.


Buying a pass will give the visitor access not just to the music but the whole festival. Stay up to date for next year's schedule via their
website
.
Where to Find Live Music Near San Antonio
Fredericksburg
The quaint, German-style town of Fredericksburg is just an hour outside of San Antonio and is home to its own distinct music scene as well. Hondo's on Main Street is a charming indoor and outdoor restaurant and music venue, complimenting their menu of classic American favorites and a full bar with performances by local musicians. Later in the evening on Saturday nights, guests head to Crossroads Saloon and Steakhouse to enjoy their lively dance floors. Sundays allow for another genre of music to be appreciated, with a gospel brunch at Hill Top Cafe cultivating a fabulous, delicious, and soulful experience.


The Backyard Amphitheater
is the town's biggest music venue and is where most traveling artists play when traveling through Fredericksburg. Past performers include the Marshall Tucker Band, Reckless Kelly, Dennis Quaid, the Sharks, and even Billy Rae Cyrus. Despite a small population of only 11,000 Fredericksburg holds its own with a robust selection of live music promising days and nights of fun and entertainment.

San Antonio Music Showcase
The San Antonio Music Showcase is where residents go to be introduced to local artists of the area. The one night features 35 bands and DJs across ten stages in a central San Antonio neighborhood. They aim to celebrate the city's thriving music scene and represent home-grown talent across multiple genres.


The all-access wristband is only $10 and grants you access to all the participating venues. There are even festival pedicabs to transport you and your friends to the venue of your choice. Note each venue can dictate age, and while some allow everyone, others are strictly 18 or 21 and up. The event starts at approximately 9 PM and usually wraps up around 2 AM.


If you want to learn more about music and music festivals in San Antonio or about San Antonio, Texas houses for sale, please don't hesitate to reach out to
The Graves Group
. Denise Graves and her team would love to show you houses and San Antonio real estate for sale.